[English]
++++++++++++++++++++++++++++++++++++++++++++++++++++++++++++++++
Videos of the performances are shown from the 8th of February till the 26th of February in the windows of the Orangerei, Große Langgasse 16 and on this website below.
An Opening Online-Event with the artists, the curator Aaron Kappenberger and Carmen Mörsch of the Art School Mainz will be held on the 10th of February at 18 o'clock.
A Workshop by Nicholas Grafia and Mikołaj Sobczak on the topic of "the Archeology of Marginalized Lives as a Practice in Artistical Works" will be held on the 22nd of February at 18 o'clock (limited number of places).
Sign up to the events via Mail to queer@asta.uni-mainz.de
++++++++++++++++++++++++++++++++++++++++++++++++++++++++++++++++
Since the start of the Covid-19 pandemic, more than one year ago, the term of "sickness" has made a long way in a very short time. From being mainly associated with the discourse surrounding health- , governmental- and economic institutions, but also a neofascist term of hate speech to being a word of mainstream media coverage; the term sickness focused on the consequences of the pandemic has entered our everyday conversations, the speeches of every single politician and all the channels of the mainstream media. In this context we believe it to be important to also take a step back and look at this and many other terms in the complex and fluctuating net of human relations, of people being associated with terms like sickness, and people who associate themselves with them in a process of reclamation.
The performances by Nicholas Grafia and Mikołaj Sobczak encapture elements of the lives of marginalized people and confront public audiences with their interpretations of these. In their works they challenge established normative constructs of linearity, eurocentrism, cis-heteronormativity and cultural hegemony. In a time, in which many public spaces, where Nicholas and Mikołaj usually would perform, are restricted due to the pandemic, we believe it to be important to create alternative ways to show their works in a public setting.
The Performances
It's 10PM. Do you know where your children are? (2019)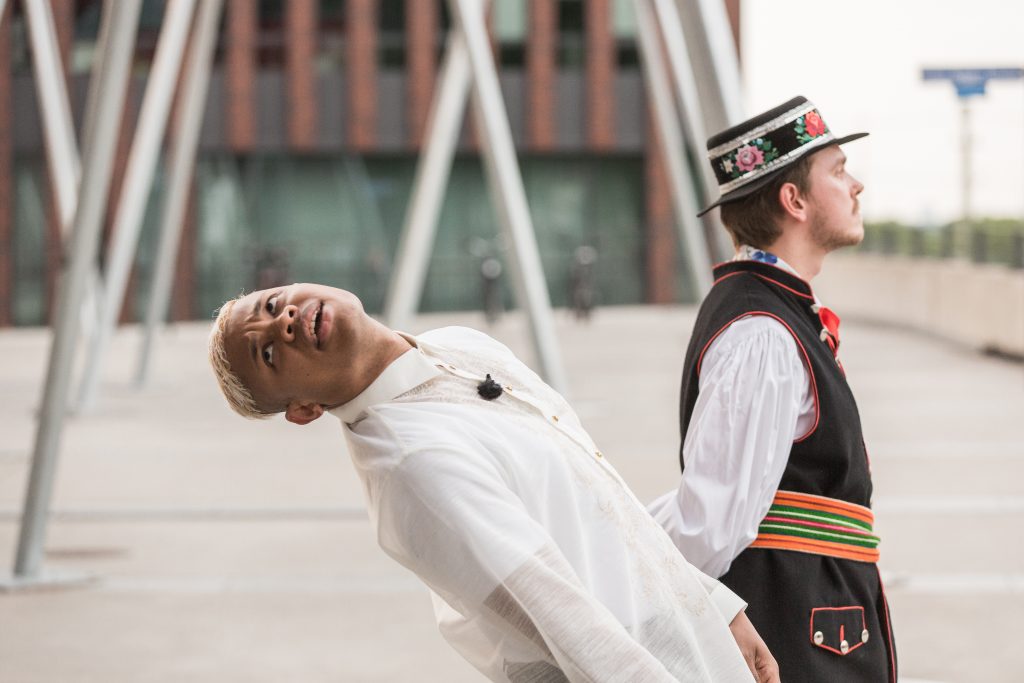 The performance consists of a collage of texts like news, goodbye letters, family conversations, memories, as well as statistics and research find on POC (and) LGBTQ individuals' social environment and psychological developments.
Within the performance, stories of different families are being intertwined. Intergenerational and personal dynamics, tension between parent figures and their designated offspring, as well as notions of love, hate, desire and regret are negotiated within the duration of the action.
The choreography and costumes used in the performance are furthermore inspired by images of figures, known from folklore, oral tradition, film and art history.
The focus here lies on narrations and images depicting characters that fought in various public and intimate settings of social resistance.
The protagonist of the performance are Slavic and Philippine folk demons who were used to embody the feelings of being other, not fitting to a community.
The Accursed Ones (2018)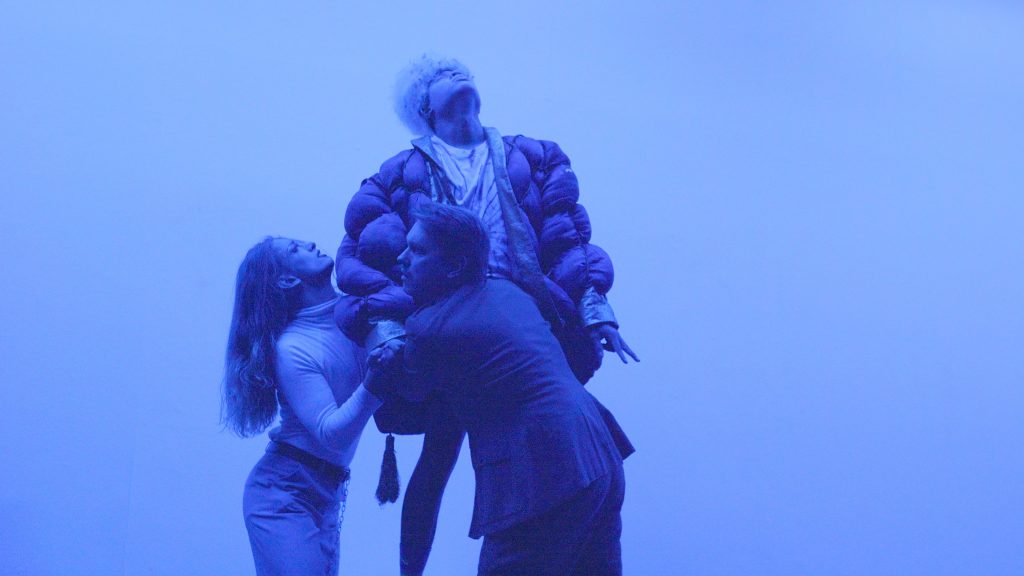 The Accursed Ones refer to exorcism and purification rituals, such as those performed in different cultures with an egg.
At the center of the performance are the characters of a zombie, a vampire and a witch, figures that are mainly known from horror film and gothic fiction. They are understood here as a metaphor for marginalized groups, who often have to lead a different life away from society. Such as during the AIDS crisis of the 1980s.
'Resurrection of the dead' is a process that is closely linked to the politics of remembrance. This is often observed in the governments of countries that try to establish certain ideologies and systematically discredit existing elites.The performance visualized various alternatives for these processes.To put marginalized individuals at the center of action was the substance of this work. Ghosts from the past should thus be included in the collective memory of the present and, in addition, design future utopias.The performance was the last chapter of the show The Doomed Ones at Museum of Modern Art in Warsaw.
The Artists
Nicholas Grafia
Nicholas Grafia was born in 1990 in Angeles City/Philippines, he lives and works in Düsseldorf. From 2012 to 2016 he studied at the Akademie der Künste Münster, under, amongst others, Prof. Shana Moulton and Prof. Daniele Buetti, from 2014 tilll 2015 Nicholas studied at the School of Arts and Cultures, in Newcastle (GB) and from 2016 to 2019 at Kunstakademie Düsseldorf under, a.o., Prof. Dominique Gonzalez Foerster and Prof. Rita McBride. In 2019 he received a scholarship by Kunst- & Kulturstiftung Stadtsparkasse Düsseldorf in cooperation with Kunstverein für die Reinlande und Westfalen, Düsseldorf as well as the MALT AIR study visit at Kunsthalle Arhus & Maltfabrikken, DK.
Instagram: @nyck_rausch
Artist Statement
In the last few years my practice has increasingly shifted towards one that seeks to combine mainly painting and performance, in order to discuss the creation of social, cultural and political memory. Looking at the history of my home country, the Philippines, and comparing them to the radical neo-liberal, xenophobic and right wing tendencies I have encountered while growing up in Europe, I came to realize new examples for mainly two things: How many national governments have radically exploitative and marginalizing agendas and how interconnected national histories and issues in political power dynamics are on a global level.
The use of absurdist aesthetics, as well as a theoretical focus on writings on postcolonial issues, the uncanny, the monstrous and post-humanism, have helped me to find a visual language to contemplate my artistic ideas on those matters. Employing non-linear dialogue styles, theatrical disguise, masks and ambiguous physical shapes, throughout my multidisciplinary practice, I wish to irritate and subvert established power relations and conventions within my heteronormative western surrounding.
Furthermore looking at the way my environment produces, replicates and negotiates racial or sexual representations, I started to look at the history of alternative spaces such as drag queen houses, secret LGBTI+ meeting spots, as well as spaces where POC bodies are exoticized. Investigating into different social, (sub) cultural, as well as historical directions, I am creating visual narrations that are intended to present the narratives and voices of marginalized subjects to a wider audience.
In my research stages, I am particularly interested in the way secret visual cues and scene codes enable a complex and rich communication between like-minded people, living in precarious situations, knowing that they are exposed to constant vulnerability and threat.
Having been in that position myself, I was always interested in finding ways to turn someone's role of a victim, who is for example suffering from homophobia or racism, into one that enables an individual to have agency and impactful visibility.
Especially within my performative works, I have actively taken advantage of the personal histories and cultural experiences of fellow performers and collaborators, by constructing multi-perspective dialogues, in order to extend possible interpretations, and to re-negotiate and add to existing queer, POC and immigrant narratives and history.
My artistic practice is therefore generally concerned with a juxtaposition and interweaving of historical events and recent global developments, the familiar and the strange; the personal and the universal.
Mikołaj Sobczak
Mikołaj Sobczak (born 1989) graduated at the Academy of Fine Arts Warsaw (PL) in the Studio of Spatial Activities, followed by a scholarship at Universität der Künste Berlin (DE), and studied as well at Kunstakademie Münster (DE). He works in video, paintings and ceramics, often including performative actions as well. He frequently collaborates with German artist Nicholas Grafia.
His most recent exhibitions include shows at MoMA (Warsaw), Museum Ludwig (Cologne), Capitain Petzel Gallery (Berlin).
In his work, Sobczak is focused on political issues and historical policy. Emphasizing the perspective and life of marginalized subjects, he builds narratives, and tracks down the reasons for current global and social issues.
Instagram: @mickowhysobchack
Artist Statement
In my work, I am focused on political issues and historical policy. Emphasizing the perspective and life of marginalized subjects, he builds narratives, and tracks down the reasons for current global and social issues.
At the core of my work stands the need to create images of alienated and othered visuality and narratives which were forgotten, erased or marginalized in "the official history".
I can still see a tremendous lack of them and the processes of eliminating those which already exist from the public sphere. I mean here especially the images of minorities' movements which were fighting against the oppressive system.
I try to familiarize people with this visuality and narratives in order to show how history eradicates and manipulates memory.